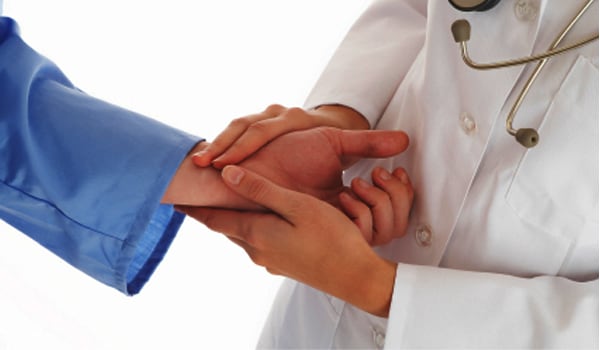 This past week I was invited to speak to a group of medical students at A.T. Still University in Mesa. These students were studying endocrinology. I spoke about my own diagnosis, the impacts of diagnosis during that decade and about the relationships that I had with my many doctors over the years of living with diabetes. I didn't get as much time to show them all the various devices I have, but it was a great experience.
I mainly wanted to talk about the doctor/patient relationship. I have had doctors with wonderful bedside manners and doctors that, although highly educated, had a terrible bedside manner. I wanted students to know how important I, as a patient, think they are in my life. I wanted them to know that diabetes is far too integrated in my life to simply look at my A1C results for 10 minutes every quarter.  I laugh when I get asked what my average fasting (BG) is at my appointments. I understand the need, but is that really telling them anything about how my control day in and day out is being handled?
I am thrilled when my doctor tells me that I know more about my body than she does. It makes me feel good. I don't want her to say that for the next 20 years though. I need her to be on top of the new technology and impact of living with diabetes. I need a doctor to understand me and get to know me so that they know when I am struggling with life, not just my blood sugars. Let's face it Diabetes affects my life and my life affects my diabetes control. I went through a phase where my A1C results were still in an acceptable range but increasing, my doctor stopped and thought about me. She probed further. She wasn't going to let me walk out of the office with another "I'll try harder." She already knew I was trying hard and this wouldn't be acceptable to me in my regular routine.  She knew me and realized there was more to the story of why I was creeping up. It had everything to do with stress and nothing to do with my eating and exercising.
These young students embarking on a new adventure in a very important field need to know  how important their words, attitude and relationship with each of their patients is. Sure, some will have to utilize the scare tactics for those that are non-compliant. 
Some will need to remember they are dealing with children that are confused and barely understand the medical terminology. They need to remember that although the parents or adults might understand the terms, they are in shock. They are barely digesting the new diagnosis. They need to remember that we are just humans and life with diabetes is much more than just our A1C result!
I wish them the best on their career path and hope that the doctors of today will help and encourage the doctors of tomorrow.